Positive Grid got a ton of well-deserved attention in 2020 with Spark, its groundbreaking guitar practice amp and app. The compact 40-watt combo not only offers a range of excellent amp and effects emulations powered by Positive Grid's BIAS Tone Engine, but also helps players practice, jam, and learn with a variety apps and features.
Today, the company brings its pioneering innovations to the RIFF, a compact and portable USB audio interface for computers and mobile devices, optimized for electric, acoustic and bass guitars.
To that end, RIFF features Hi-Res (24-bit/96kHz) audio and a Tone mode with three preamp and overdrive emulations that let you add warmth, an analog boost, or enhanced midrange overdrive. . But what makes the RIFF particularly interesting for guitarists is the way it integrates with Positive Grid's BIAS FX 2 amp and effects software, giving you thousands of tonal options, as well as Customizable functions from the RIFF's large central control knob.
If you don't have BIAS, you'll be happy to take advantage of the free BIAS FX 2 LE software included with RIFF. The device also comes with PreSonus Studio One Prime recording software and USB cables for interfacing with computers and iOS devices. There's a lot going on under the hood here, so let's get to it.
As far as audio interfaces go, RIFF is among the most compact I've seen. The sleek metal box was small enough to sit unobtrusively on my crowded studio desk and neatly tucked away in my laptop bag when traveling on weekends.
My model had a sleek black exterior, but RIFF also comes in striking red, green, and blue finishes. Connections include (on the bottom panel) a 1/4″ mono instrument input and a 1/8″ stereo headphone jack for monitoring your guitar and DAW signals; and (on the top panel) a 1/4" stereo line output for mixers and monitors (same signal as the headphone jack) and USB connection for computers and devices.
Connect RIFF to your computer and its bright, easy-to-read display lights up above the large knurled control knob. Press the control knob to select one of four modes shown on the screen: Input (volume), Output (volume), Direct (for latency-free tracking), and Tone.
Once you've selected a mode, turn the control to adjust input, output, and direct volume levels, and choose from Tone Mode's four preamp and overdrive settings: off, modern (light compression) , Transparent (light bass and high boost), and Old School Fat (bulky mid-range boost).
Below the display are three useful LED indicators: clip (red), which indicates when your signal is too hot; direct (blue), to remind you that the Direct mode volume is set to something other than zero; and Tone (amber), to indicate that one of the three preamp settings is active.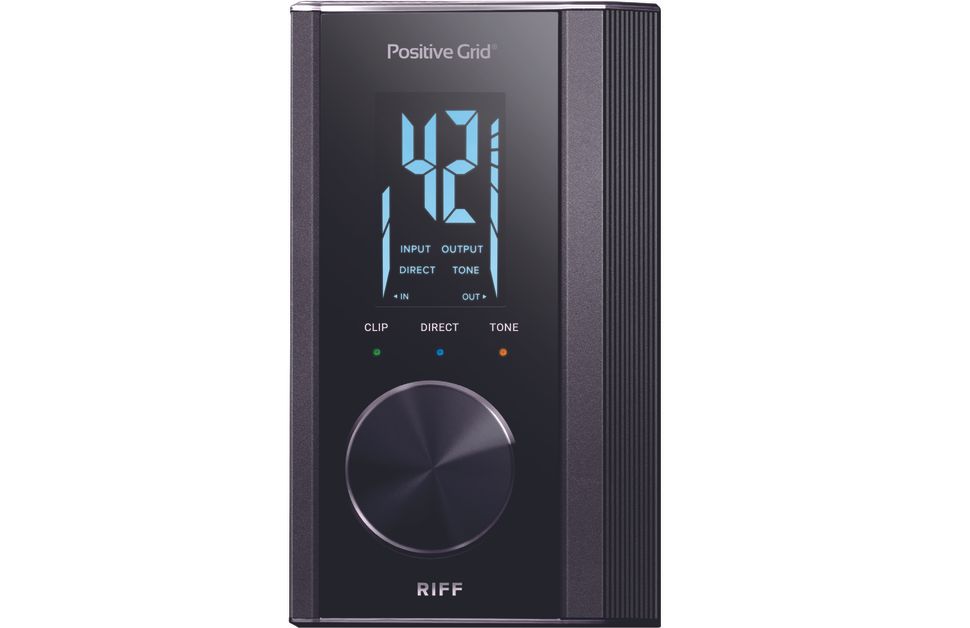 On its own, RIFF is a formidable audio interface, thanks to its built-in tone presets and impressive 24-bit/96kHz resolution, not to mention a dynamic range of 113dB.
Recording with it is child's play. Connect it to your computer, launch your DAW and select RIFF as your input and output device in your preferences. Set your input and output levels, use Direct mode for zero latency, and away you go.
Once you've created a new track, fire up the BIAS plug-in and start designing your sound from a wide variety of amp emulations and effects, or use the software's Guitar Match, which oddly allows your guitar to sound like just about any other model you can think of. In my case, my late 60's Gibson ES-335 was treated to a hyper-realistic emulation of an early 60's Fender Strat. But it's when using BIAS FX 2 in standalone mode that RIFF really shows his thing.
Once launched, the BIAS FX 2 app will guide you through Auto Gain Setup, a handy feature that optimizes performance based on your guitar's pickups.
While I sometimes had to adjust this manually to get everything perfect, the software did a good job of getting me in the zone. In addition to Guitar Match, BIAS FX 2 includes Authentic Tone, which provides detailed amp and effects emulations and lets you create custom pedalboards, as well as ToneCloud, an impressive online library of over 50,000 guitar sounds. guitar.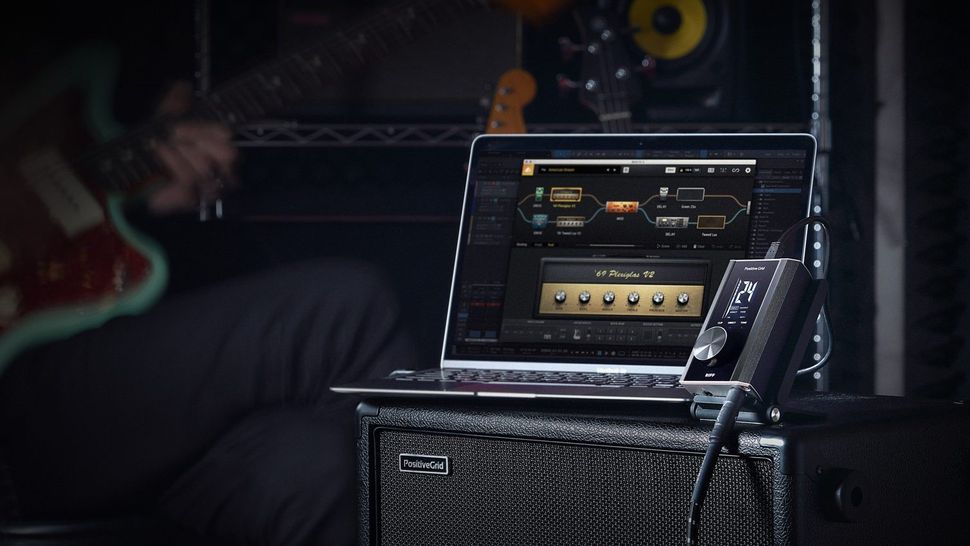 For practice and learning, the Music Page feature lets you browse and search for tracks to play and learn songs via BIAS's Auto Chords feature, which displays chords in real time and at the tempo of your choice .
Considering everything on offer here, RIFF's single button control works surprisingly well for navigating BIAS FX 2, and it can be customized to your preference. Simply hold it down for two seconds and assign one of the following functions: preset selection, signal chain activation, metronome, preset scene and preset BPM control.
As a recording tool, RIFF is a convenient and easy-to-use interface that should be a welcome addition to any guitarist's DAW setup. You say you already have an audio interface? Of course it is, but RIFF is optimized for electric, acoustic and bass guitars, and offers quick and intuitive access to great guitar sounds. For that alone, I think it's a must.
Add seamless integration with BIAS FX 2 (as well as the free LE version), and RIFF becomes a powerful tool for practicing, songwriting, learning, and recording. Beyond the tonal control on offer, the RIFF/BIAS combo will streamline your workflow, just like it did for me. For flawless audio, powerful sound, and pure ingenuity, RIFF receives our Editors' Choice Award.
Features
CONTACT: positivegrid.com (opens in a new tab)
THE PRICE: $99 straight
INTERFACE: Central control knob (turn, push), display and indicators for clip, direct and tone
I/O: 1/4″ mono instrument input, 1/8″ stereo headphone output, 1/4″ stereo line output, micro USB
SUPPLEMENTS: BIAS FX 2 LE Software, PreSonus Studio One Prime Software, Micro-USB to USB-A Computer Cable, Micro-USB to Lightning iOS Cable
DIMENSIONS: 0.85″ x 2.16″ x 3.47″
COMPATIBILITY: Windows 8 or later / macOS 10.11 or later / iOS 11 or later
BUILT: China