printable version
Reliable interface for blind plugging of modular connections
February 2022
Enclosures, wiring and connectors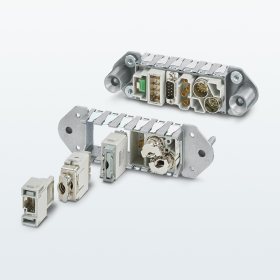 The new docking frames of the Phoenix Contact Heavycon product family allow quick installation and maintenance of push-in systems and other applications where interfaces are not visible.
Protruding guide elements enable blind and reliable contact establishment. The male and female sides are aligned together due to the floating mounting of the frames. A significant advantage is the easy assembly of the frames with modular contact inserts, which are simply inserted thanks to their locking springs. Custom, compact interfaces can be created by combining a wide range of transmission media into a single host frame.
The extensive product range of modular contact inserts in the Heavycon product family includes the ideal inserts for signal, data, power and compressed air transmission for every application. The heavy-duty die-cast zinc docking frames are touchproof and available in market standard sizes from B6 to B24, with two to six slots.


Credits)
Further reading:
Left-handed expansion modules for PLCnext Control devices
Phoenix Contact PLCs, DCS and controllers
Since the left-alignable modules communicate with the controller via PCIe, the standardized interface can also be used by third-party devices.
Read more…
---
Manufacturer-independent device management and update service
Phoenix Contact PLCs, DCS and controllers
In the industrial environment, device and update management (DaUM) solutions often use a specific process called a vendor to distribute files to proprietary devices and install them based on the manufacturer. …
Read more…
---
Tool-free wiring with M12 push-lock connectors
Housings, cabling and connectors Phoenix Contact
Confined spaces and custom cable lengths are increasingly common when it comes to machine and plant wiring. Whether for the transmission of signals, data or energy, the Phoenix Contact …
Read more…
---
Space-saving power supplies
Phoenix Contact Power Supply and Protection
With its new generation of "Uno Power" power supplies, Phoenix Contact offers compact power supplies with high power density. The new devices are space-saving and can be aligned without minimal play …
Read more…
---
Redundant controller for maximum availability
Phoenix Contact PLCs, DCS and controllers
The integration of IO-Link compatible sensors and actuators is particularly appreciated by suppliers of machines or skids for the food industry.
Read more…
---
Pratley stands firm with international and local market growth
Pratley enclosures, wiring and connectors
Shipping and supply chain issues have led to global shortages of a range of basic items and commodities. "The world is shopping right now and we have seen quite substantial international interest …
Read more…
---
Ethernet Switches for Harsh Environments
Phoenix Contact Fieldbus & Industrial Networking IT in Manufacturing
Phoenix Contact's FL Switch 1000NT series has been expanded to introduce wide temperature models with advanced approvals for the process and marine markets. These switches offer a rugged metal housing, …
Read more…
---
New range of I/Os for field installation
Phoenix Contact Fieldbus and Industrial Network
Phoenix Contact is expanding its range of I/O systems for control cabinetless automation with the new generation of the Axioline EI/O system. The devices have been designed to satisfy both …
Read more…
---
Easy recording of weather data
Phoenix Contact PLCs, DCS and Controllers
Phoenix Contact's pre-installed solution with PLCnext Control records wind speed and direction values, temperature, radiation, humidity and amount of precipitation.
Read more…
---
Amphenol circular connectors available from RS Components
RS Components SA Enclosures, Wiring and Connectors
An extensive series of M8x1 D-coded devices provide the highest data and power signal integrity for Ethernet industrial automation applications.
Read more…
---