When I started creating Youtube podcasts and tutorials, I really didn't know where to start. There was a lot of advice online, but the more I read and watched a number of Youtube videos, the more confused I became. There is a lot of hardware available, but choosing something that suited my needs within my budget was such a challenge until someone recommended a Focusrite Scarlett 2i2 3rd Gen.
Advertisement – Continue Reading Below
The Focusrite Scarlett 2i2 3rd Gen is a audio interface. If you're unfamiliar with gaming, you obviously must be wondering what an audio interface is. Well, an audio interface takes audio signals from a standard microphone Where musical instruments like a guitar and converts them into something your computer can process with software like Audacity Where Garage band.
If an audio interface takes microphone input and converts it to a format your computer understands, then how is it different from a lapel microphone or a USB microphone? Well, that's a good question because I use both a lapel mic and USB mics for my voiceovers, Youtube tutorials, and Zoom calls.
In terms of functionality, an audio interface like the Focusrite Scarlett 2i2 3rd Gen and a micro USB like the Bluet Yeti or the Fifine K669B that we tested do the same thing. They differ in how they achieve the function of getting input audio signals from a microphone to your computer.
USB microphone vs. audio interface
A USB microphone such as the Blue Yeti is a stand-alone system. It's a microphone with a cable that plugs into your computer's USB port, usually without the need for additional drivers. It is designed to be simple to use and typically configured in a plug-and-play fashion. The USB microphone is also usually powered by the computer's USB power supply, so no external power source is required.
Advertisement – Continue Reading Below
An audio interface on the other end does not come with a built-in microphone. Instead, it comes with two or more microphone input ports where an external microphone or musical instrument typically purchased separately plugs into. Most audio interfaces such as the Focusrite Scarlett 2i2 3rd Gen support two or more XLR microphones. So this makes audio interfaces ideal for audio production involving two or more audio sources like a two-guest podcast or say one musician with a setup of a microphone and a guitar. Audio interfaces typically have a USB-C, Micro USB, Firewire, or Ethernet port that connects to your computer.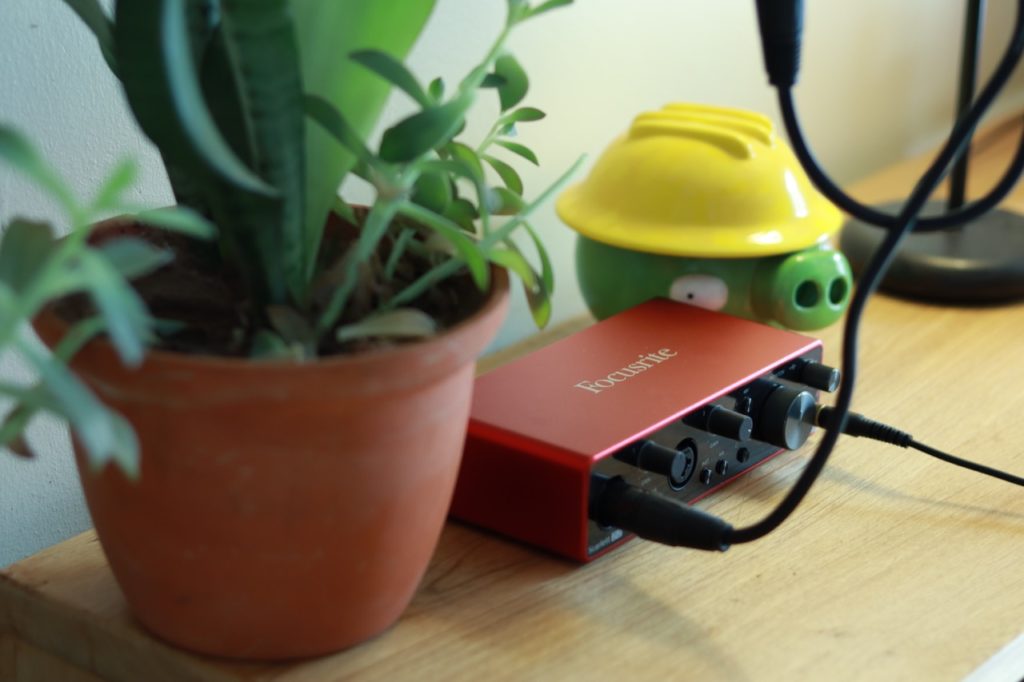 Now that you fully understand what an audio interface is vs. a USB microphone, let's now take a look at this Focusrite Scarlett 2i2 3rd Gen Audio Interface.
Focusrite Scarlett 2i2 3rd Gen Specifications
Dimensions: 7.68 x 2.09 x 1.32 inches
Lester: 1.1 pounds
Connectivity: USB Type-C
USB version: 2.0
Resolution: 24bit/192kHz
Number of preamps: 2
Phantom Power: 48V
Instrument inputs: 2
Line inputs: 2
Headphone outputs: 1
Balanced 1/4″ line outputs: 2 TRS
Simultaneous I/O: 2×2
Bus Powered: Yes
Compatibility: Mac and Windows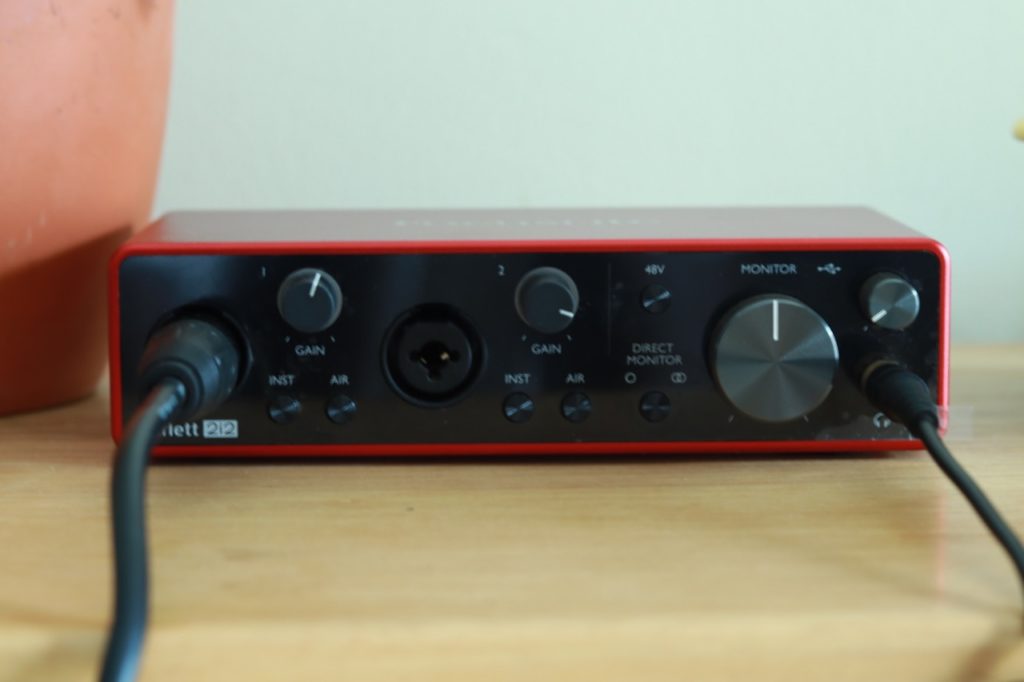 The Focusrite Scarlett 2i2 3rd Gen is a third iteration of this audio interface from Focusrite. I have used it perfectly on both Mac and Windows platforms. He now has a USB-C port to connect to the computer whereas the previous model had a larger USB Type B port. Having a USB-C port is definitely a welcome upgrade since this connector is now becoming the universal standard for powering most devices electronics. The USB-C interface serves both for data transfer and for powering the audio interface. The Focusrite Scarlett 2i2 does not need an additional power source, as it is USB powered port on your computer.
The USB logo light turns on when the device receives USB power from your computer. That's great because you don't need another power outlet. However, Focusrite recommends that when using it with a laptop, the laptop be powered using its AC adapter, otherwise the battery will drain faster than when powering the laptop alone.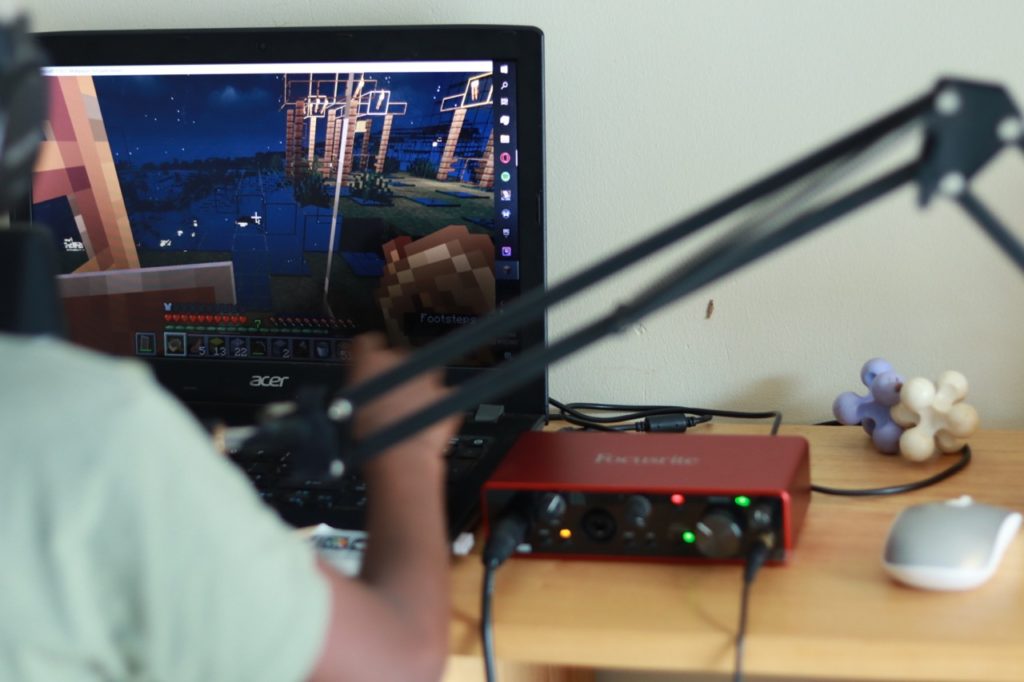 On the audio input side, the Focusrite Scarlett 2i2 has two female XLR ports or one 6.35 mm (¼") jack plug. They are labeled 1 and 2 or input 1 and input 2. This means that you can connect two XLR microphones or musical instruments simultaneously. Thus, the Focusrite Scarlett 2i2 functions as an audio mixer that you can use for example for two-person podcasts. If you're an artist, you can use it to record vocals using a microphone on input 1 and connect a musical instrument like a guitar to input 2. The Focusrite Scarlett 2i2 has two buttons to help you choose between microphone and instrument. You have the INST if you have connected a musical instrument and AIR. According to Focusrite, the AIR function modifies the frequency response of the input stage to model classic Focusrite ISA transformer-based mic preamps.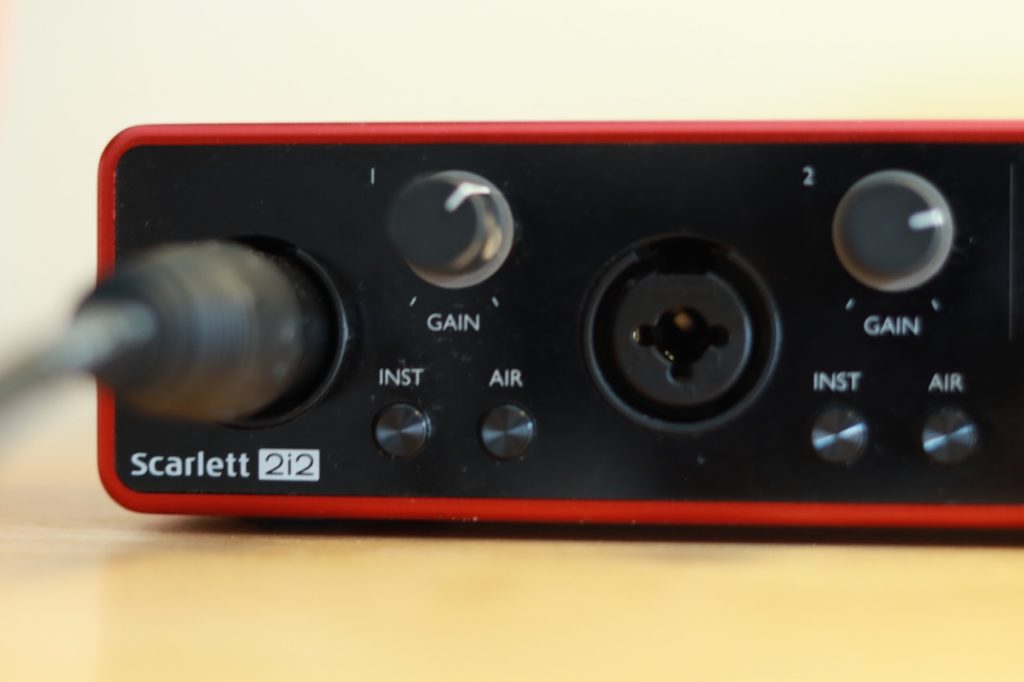 Each audio input has a gain knob that allows you to dial in the level of sensitivity you want for the microphone or musical instrument. You also have a 48V phantom power button that is needed for most XLR microphones to work. If phantom power is on, you will see a red LED light through the 48V label.
The Focusrite Scarlett 2i2 also includes a live monitor. This allows you to plug in standard wired headphones through a 3.5mm headphone jack to input. The monitor has a volume dial so you can control the volume you can hear yourself while recording in mono or stereo. On the front panel, you can set the monitor to Mono represented by a circle or Stereo represented by two circles. In Mono mode, Inputs 1 and 2 are routed equally to both outputs (the rear panel outputs and the headphones) so that they both appear in the center of the stereo image. This is probably the mode you want to use for common cases. In stereo mode however, Input 1 is routed to the left output channel and Input 2 to the right. This mode is best used for recording something that is inherently stereo in nature.
Advertisement – Continue Reading Below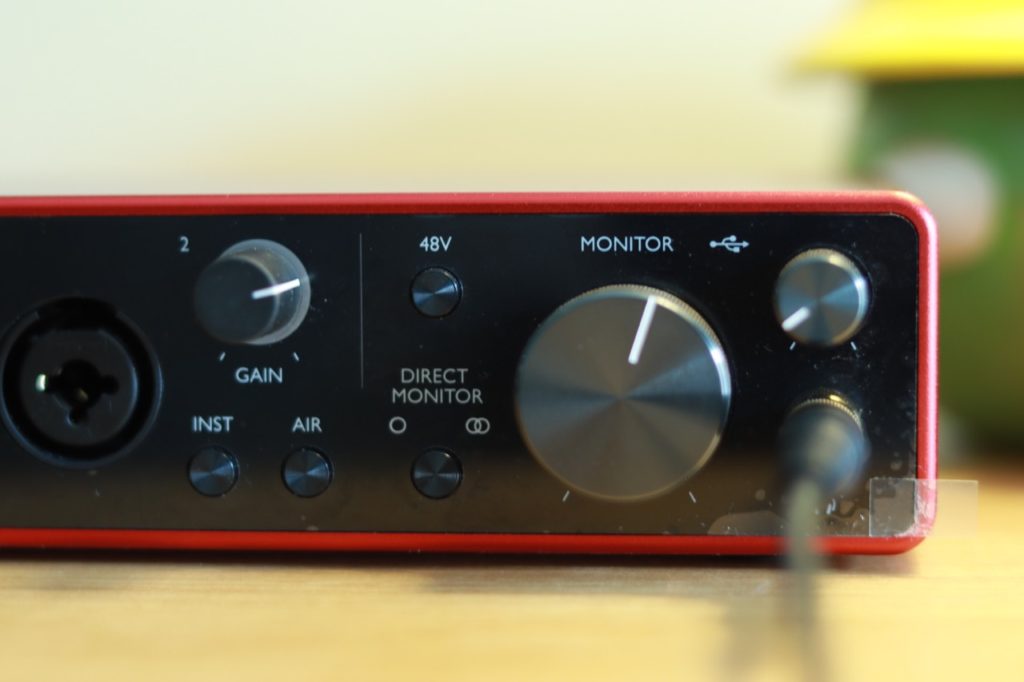 On the rear panel of the Focusrite Scarlett 2i2 are two line outputs which are ¼" (6.35 mm) 3-pole (TRS) jack sockets marked Left and Right. You can use these 6.35 mm jack outputs to connect monitoring speakers. You can connect to active speakers, i.e. internal amplifiers and volume control, or passive speakers through an amplifier.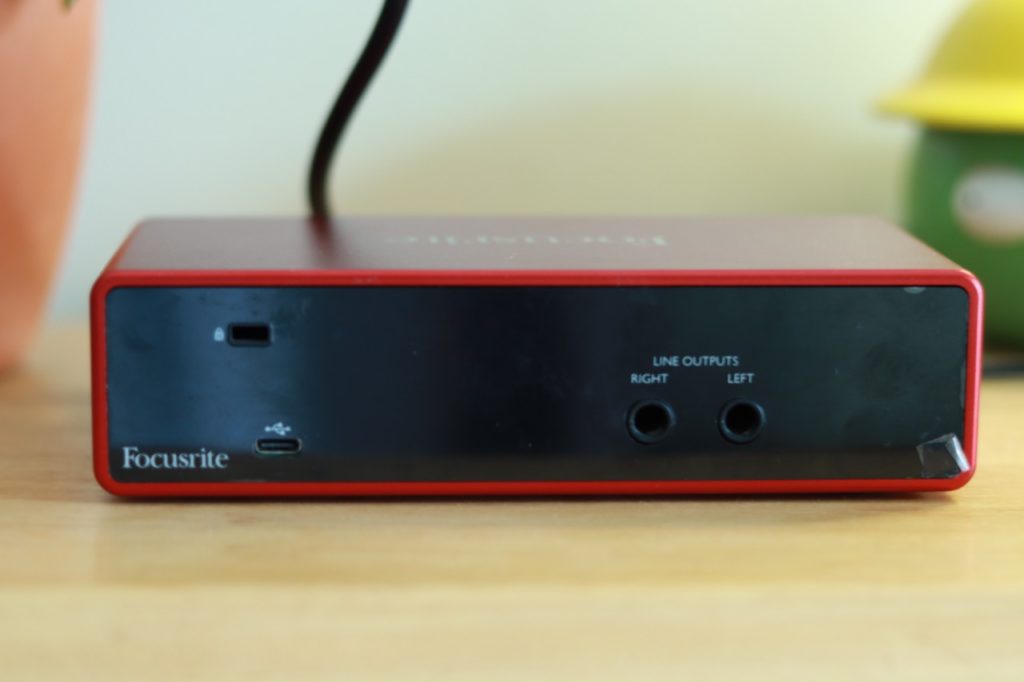 Price and availability
The Focusrite Scarlett 2i2 3rd Gen is available on Amazon for $179.99 or of B&H for the same price. If you want the Focusrite with a condenser microphone and headphones, you can get this kit for $239.99 which is always a bargain on Amazon. You can also purchase it from the Focusrite website itself for $209.99.
Front panel indicators
USB power supply: LEDs
Earn halos: Tri-color LED rings (concentric with GAIN controls)
Phantom Power: LEDs
Instrument mode: 2x LEDs
AIR mode: 2x LEDs
Direct monitor mode: 2x LEDs
Analog inputs
Connectors: XLR "Combo" Type: Front Mic/Line/Inst (Inputs 1-2)
Mic/line switching: Automatique
Line/Instrument switching: 2 x Switches on front panel or via Focusrite Control
Phantom Power: Shared 48V phantom power switch for inputs 1 and 2 (XLR connections only)
AIR function: Front panel switch or via Focusrite Control
Analog outputs
Balanced outputs: 2 ¼" TRS sockets on the rear panel
Stereo headphone output: 6.35 mm TRS jack on the front panel
Master output level control: On the front panel
Headphone level control: On the front panel
Related